About Us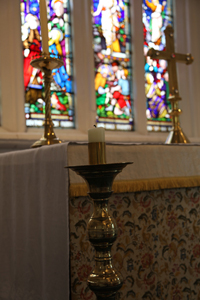 Guildford Methodist Church is in a partnership with the Church of England parish at St Mary's in Quarry Street, right in the heart of Guildford. We worship and work together to show Christ's love to the people of Guildford. Our partnership started in 2013 and our church community has grown close together. St Mary's also hosts services for European Orthodox and other worshippers.
We are part of the Wey Valley Methodist Circuit, enabling us to draw on the resources of the Circuit and to continue working with other Methodist churches in the area.
We host a range of activities and in recent yearshave improved the facilities to suit modern needs, without losing the special atmosphere of a building which has been at the centre of the town's life for over 800 years. The building has a very special character and is a magnet for visitors, offering us great opportunities for outreach. A major reordering project undertaken in 2019 and 2020 has improved accessibility and created a new Welcome area, kitchen and meeting room and provided new heating and lighting.
You can find out more about regular activities here.